August 15, 2023
Trump Georgia Indictment: Swing-State Grassroots Groups Are Our Best Hope for 2024.
Trump was just indicted in Georgia for trying to subvert the 2020 election. If grassroots groups had turned out slightly fewer voters in three states, we'd be in a very different world right now.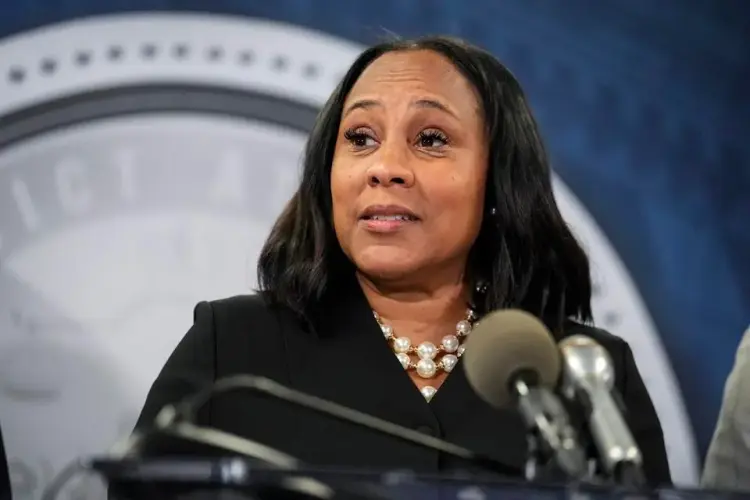 Fulton County District Attorney Fani Willis. Credit: John Bazemore / Associated Press
What Just Happened + What To Make Of It
On August 14, Trump and 18 allies were indicted in Georgia for a conspiracy to subvert the state's 2020 presidential election, involving "fake electors", harassment and intimidation, and even a breach of voting systems.
Our reaction in a nutshell? We're not surprised. When youth and voters of color vote, Trump and the GOP lose.
Kendra Davenport Cotton, CEO of our local partner New Georgia Project Action Fund, said this:
"We believe facts. Biden won the 2020 race because Georgia voters showed up and showed out in record-breaking numbers. The folks that I work with here at NGP Action Fund have always known the power of Georgia voters and have always known what Georgia voters are capable of – especially Black, brown and young voters."
Trump lost because swing-state grassroots groups organized.
As our partners at the Georgia Alliance for Progress put it:
"To put it bluntly, the right tried to suppress Georgia voters because Georgia voters decide elections. Georgia is a rising battleground whose electorate continues to grow and flex its power thanks to the 365-day efforts of our coalition's work."
Whatever comes next, we should all pause to take in this sobering reminder that Trump nearly uprooted our democracy less than three years ago — and that swing-state grassroots organizations helped stop him by turning out youth and voters of color in margins that were ultimately incontestable.
How Grassroots Groups Saved Us in 2020
Three states won the race: Biden won by 42,844 votes in Wisconsin (20,608 votes), Georgia (11,779 votes), and Arizona (10,457 votes).
Margins were razor-thin: Out of those states' 11+ million votes, the total margin of victory was a microscopic 0.37%.
Youth and voters of color were pivotal: In Georgia, for example, Biden won young voters by 126,000 votes and won Black voters by over 1.2 million votes.
Year-round grassroots groups turned out these voters using proven relational organizing tactics, including MVP partners such as New Georgia Project Action Fund, SONG Power, and Black Voters Matter.
How Close We Came to Disaster
Grassroots groups' years of organizing — supported by progressive and anti-Trump donors giving just enough, just in time — brought about just big enough margins to narrowly avert either a Trump win or a more chaotically contested result.
Watching Trump prime his base to reject 2020 election results months before votes were cast, we knew only a definitive win could stave off claims of election rigging. This is just one reason we sought to educate donors about the importance of early, sustained investment in local organizing.
If donors had sent just slightly fewer dollars, just slightly later, organizing groups might have produced smaller margins or fallen short entirely in Arizona, Georgia, and Wisconsin… and we could be living in a very different, far scarier world today.
Why 2024 Is Setting Off Alarm Bells
With stacking indictments, we are now in political uncharted territory:
So where does this leave us?
How We Can Beat Trump and Trumpism in 2024
In 2020, we had the margins (and a coordinated plan) to not only win, but to overcome the outlandish yet dangerous and even violent election denialism intentionally fomented by Trump.
Now, Trumpism has taken over the GOP whether or not the man himself is on the presidential ticket — and we can expect more in 2024 of the election subversion tactics that have proliferated since 2020.
In this precarious situation, our best insurance plan is to:
Once again catalyze record-breaking turnout among youth and voters of color.
"Play our position" as funders, donors, and movement allies in solidarity, by investing big, early, and strategically in swing-state local voter groups.
Organize our networks to do the same, while there is still time.