October 31, 2023
Key Elections Next Week
MVP partners are organizing in high gear to elect progressive candidates on November 7, 2023, when a host of consequential state and local elections take place around the country.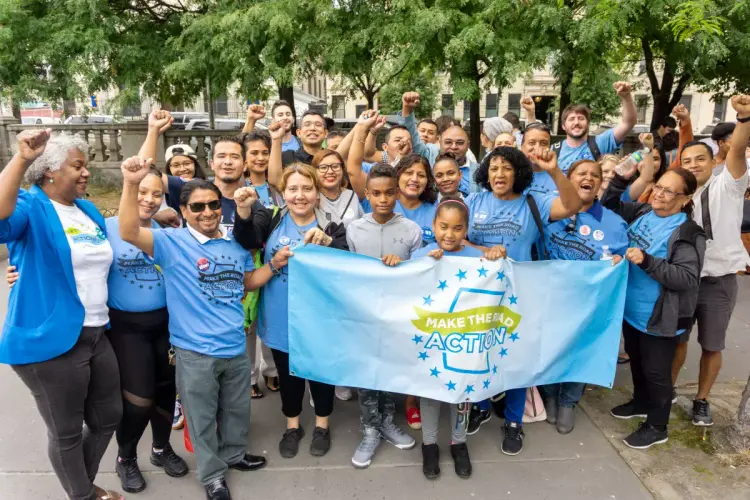 Make the Road Action
While the media obsesses over the 2024 elections, MVF and our local partners have their sights set on November 7, 2023, when a host of consequential state and local elections take place around the country.
MVP partners are organizing in high gear to make sure youth, voters of color, and other marginalized voters turn out in massive numbers, which will also build momentum toward a Blue Wave up and down the ballot in 2024.
Why Care?
Why should we care about voter engagement in local and state elections? Three reasons:
People's lives. Simply put, state and local governments — and the resources they wield — can have a massive impact on issues like climate, healthcare, abortion rights, gun safety, education, LGBTQ rights, and more.
Voting rights. Through election administration, redistricting, and myriad laws around voter eligibility, registration, access, and more, states have enormous power over that fundamental right that safeguards all other rights.
Building grassroots power. By empowering voters around local issues that directly affect them, local organizations use non-federal elections as some of the crucial building blocks of power to grow their base of support, recruit volunteers, develop leaders, and build momentum for policy change.
As our partners at New Georgia Project Action Fund put it:
"Winning in the odd years is just as important as winning in the even years – in fact, it's what we do in years like 2019, 2021, and 2023 that makes our work so effective in 2020, 2022, and 2024."
Here are some of our top priority elections:
---
Virginia: Reclaim the Legislature, Move Toward a Trifecta
GOAL: Regain full Democratic control of the General Assembly (narrowly lost in 2021), by:
Flipping the House of Delegates (held by a four-seat GOP majority), and 
Protecting or expanding our two-seat majority in the state Senate.
STAKES: If the GOP wins the state legislature, they will institute a 15-week abortion ban, removing Virginia's status as the last Southern state where abortion rights are widely protected. If Democrats win the state legislature, we would have the chance to:
End felony disenfranchisement and restore voting rights to over 300,000 people.
Set the stage for a new era of Democratic control in 2025, by unseating Gov. Youngkin.
STRATEGY: Virginia campaign finance law allows unlimited coordination between outside groups and candidates, so MVP local partners are working closely with Democratic candidates and caucuses in targeted districts to:
Amass early and absentee votes;
Run robust voter contact via canvass, phone, and text, with a focus on voters of color; 
Execute targeted digital and mail efforts; and 
Use campus engagement to mobilize young voters — the only age group that leaned Democratic in the 2021 Governor's race, 53% to 46%.
LOCAL PARTNERS INCLUDE:
New Virginia Majority: Virginia's leading civic engagement organization, builds power in working-class communities of color across the Commonwealth.
CASA in Action: 122,000 members mobilizing millions of voters to elect progressive leaders supporting immigrants and communities of color.
UNITE HERE! A movement of people committed to changing lives in the hospitality industry by making sure our jobs are safe, respected, and provide enough to live on.
---
Pennsylvania: Protect Our Supreme Court Majority
GOAL: Fortify Democrats' state Supreme Court majority (from 4-2 to 5-2), by electing Democratic Judge McCaffery to fill a vacancy following the death of Democratic Justice Baer.
STAKES: If we lose this race, the GOP could take control of the court in 2025, when three Democratic Justices are up for re-election. In this scenario, we could lose abortion rights, voting rights, fair congressional maps, and more — jeopardizing Pennsylvanians' well-being, as well as Democratic chances at winning the Presidency and U.S. Congress. And, a 5-2 vs. 4-3 court majority in 2024 would be an important advantage, should the court be called upon again to protect the results of the Presidential Election, as it was in 2020.
STRATEGY: MVP partners are boosting voter turnout via social media, mail, and canvassing, prioritizing high-density areas, voters of color, newly engaged and/or registered voters, and likely pro-choice voters. With a focus on Philadelphia and the Collar Counties, our partners are engaging voters on the most salient tested issues, including abortion rights and voting rights.
LOCAL PARTNERS INCLUDE: Make the Road Action, Pennsylvania United, Working Families Party, One PA, 1Hood Power, and Asian-Pacific Islander Political Alliance.
---
Ohio: Enshrine Abortion Rights, Save the U.S. Senate in '24
GOAL: Win a ballot measure to secure the right to abortion access in the Ohio Constitution.
This August, Ohio Republicans put forth a ballot measure to raise the vote threshold from 50% to 60% for constitutional ballot amendments. They even admitted this was designed to sabotage the November ballot amendment for abortion rights. Thankfully, MVP partners came together and defeated this cynical effort, and are now carrying their momentum into November.
STAKES: Ohio abortion rights hang in the balance, as the state Supreme Court reviews the legality of a six-week ban passed in 2019. Due to extreme partisan gerrymandering, a ballot initiative is our only path right now to protect abortion access in this GOP-controlled state.
This effort could also make or break our U.S. Senate majority in 2024, which hinges on Sherrod Brown's highly-vulnerable seat. The infrastructure we build in 2023 could be the deciding factor.
STRATEGY: MVP local partners, following the lead of state reproductive justice organizations, are registering voters until the October 10 deadline, mobilizing early voters starting October 11, and getting out the vote through Election Day on November 7, through social media, relational organizing, and paid and volunteer door-to-door canvassing.
LOCAL PARTNERS INCLUDE: Stand Up for Ohio and Ohio Progressive Collaborative.
---
More Elections!
There's also Kentucky or Mississippi, where MVP partners are working to win their governors' races and build toward a new progressive majority in the historically voter-suppressed South.
And of course, we have to mention our partners in Arizona, Georgia, Michigan, North Carolina, and Pennsylvania (as well as elsewhere), who are targeting races for mayor, city council, school board, and more — all while registering and galvanizing voters ahead of 2024.