August 08, 2023
Ohio: We Won! A Victory for Democracy & Abortion Rights
On August 8, MVP partners led the charge to defeat a ballot measure that would have made it harder to change the state's constitution — including in November 2023, when Ohioans will vote on codifying abortion rights.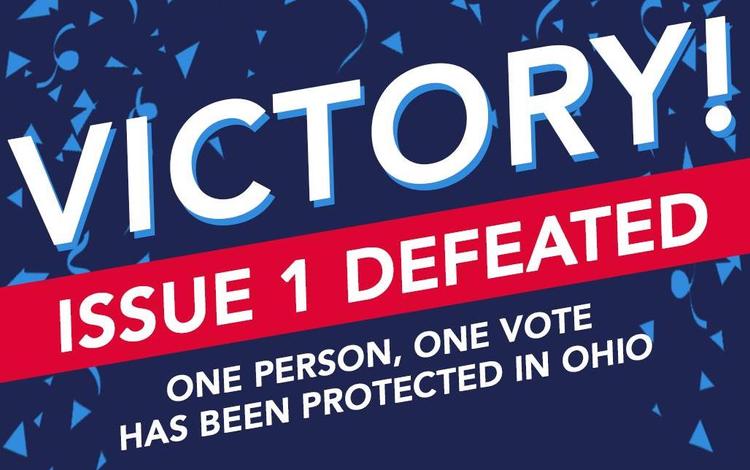 Credit: One Person One Vote, celebrating the defeat of the anti-democratic ballot measure, Issue 1
Want the short version of this story? Download the PDF 1-Pager »
In an August 2023 special election, MVP partners in Ohio cleared a major hurdle to securing abortion rights, undoing partisan gerrymandering, and enacting other crucial reforms.
On August 8, 2023 partners including Stand Up for Ohio, Ohio Voice, and the One Person One Vote campaign won their campaign to defeat Issue 1, which would have raised the vote threshold from 50% to 60% for constitutional ballot amendments.
This was the direct result of a collaborative, powerhouse grassroots operation that was far greater than the sum of its parts  — and it could not have happened without the generosity of donors who see the strategic value of year-round grassroots organizing.
PART 1 • What Happened: Ballot Issue 1 Was Really About Power.
Abortion: The Power to Choose
To understand Issue 1, we need to go back to 2019, when the Ohio Legislature passed a six-week abortion ban with no exceptions for rape or incest.
The law faced litigation, was put on hold. and has been pending review by the Ohio Supreme Court.
Seeking to defeat this legislation once and for all, reproductive rights organizers submitted more than 700,000 signatures — nearly double the needed amount — to put a constitutional amendment on the ballot in November 2023. The amendment states:
Every individual has a right to make and carry out one's own reproductive decisions, including but not limited to decisions on contraception, fertility treatment, continuing one's own pregnancy, miscarriage care, and abortion.
Recognizing Ohioans' substantial public support for abortion rights, the Ohio Legislature drew up Issue 1 to make it harder for the amendment to pass, and scheduled a special election on August 8 to put it to voters.
Saying the Quiet Part Out Loud
Proponents tried (inaccurately) to sell Issue 1 as a fight against corruption, but undercut their own messaging by revealing their true motivations:
Frank LaRose, Ohio's Secretary of State and a primary champion of Issue 1, said the quiet part out loud, admitting it was "one hundred percent" designed to sabotage November 2023 ballot amendment for abortion rights.
Rep. Scott Wiggam, chair of the House Constitutional Resolutions Committee, said: "Republicans aren't going to put it on the same ballot as the abortion issue. That's because if they both pass with 50%-plus-one, then abortion would be protected by a 60% threshold into the future."
Ballot Measures: The Power to Make Progress
Anti-democratic forces in Ohio have enacted extreme partisan gerrymandering that has stripped voters of fair representation in government.
In this situation, one of the only pathways to progress is the ballot initiative, which has been the right of Ohio citizens since 1912.
If Issue 1 had passed, it would have:
Made it harder to pass constitutional amendments, by raising the ballot vote threshold from 50% to 60%.
Made it harder to put amendments on the ballot, by requiring signatures from voters in all 88 counties, instead of 44.
Removed citizens' 10-day "curing period" to replace ballot signatures deemed faulty by the secretary of state.
PART 2 • What It Means: Momentum for Reproductive Rights and More!
Thanks to this victory and the months of tireless organizing to achieve it, our partners now head into this November's abortion rights measure with momentum and enthusiasm on their side.
Efforts are also now under way to gather signatures for a 2024 ballot measure to establish an independent redistricting commission, which will be crucial in undoing Ohio's extreme gerrymandering.
It also clears the way for other potential 2024 ballot measures to:
Raise the minimum wage,
Increase school funding, and
Enact automatic and same-day voter registration.
PART 3 • How We Won: Donors Donated and Organizers Organized.
"What happens when we band together"
Tonight we got a jubilant email from our colleague Misha Barnes at the One Person One Vote campaign. Here is what she shared:
"This August special election, designed to give our opponents the absolute greatest advantage, is now a rallying cry about what happens when we band together and fight for our democracy."

"How'd we get here? We got here together. We formed one of the largest coalitions Ohio has ever seen. We knocked on more than 500k doors, we made more than 1 million phone calls, sent millions of texts – and if you got a handwritten postcard in the mail, that came from us, too."

"We invested in groups on the ground, so they could stretch their organizing muscles early and hit the ground running. We invested in research, data, media, mail, digital programming, field, GOTV events, and more. And we left nothing on the table."
The moral of the story? We won because donors donated and organizers organized.
Lesson #1: Progress is possible, but never inevitable.
This crucial win was never a foregone conclusion. Instead, it was the direct result of a coordinated, prepared, well-funded alliance of organizations with the resources to:
Roll out the campaign quickly and early,
Organize everywhere and every day, and
Build momentum right up until the last vote was cast.
Lesson #2: Progressive "state ecosystems" are our best long-term investment.
Instead of working in silos, our partners built a collaborative, powerhouse operation greater than the sum of its parts — which they can now continue to grow and leverage moving forward.
Lesson #3: Donors have an essential part to play.
This win would not have happened without the leadership and perseverance of our Ohio partners — nor would it have happened without the generosity of donors who see the strategic value of year-round grassroots organizing.
PART 4 • What's Next: To November and Beyond!
Progressive donors can be proud of the part we played in this campaign — not only securing this win, but supporting a statewide progressive alliance that is building power year-round, year after year, campaign after campaign, to produce lasting change that goes far beyond any single election. 
Let's savor and celebrate today's victory, gear up for November's abortion rights ballot effort, and recommit ourselves to leaving nothing on the table — grassroots organizers, donors, all of us banding together — so we can bring about real, tangible change we can be proud of.