April 07, 2023
600,000 Carolinians are About to Get Healthcare – Thank you Grassroots Organizers!
Six hundred thousand North Carolinians are about to gain access to healthcare thanks to a people-powered victory last week!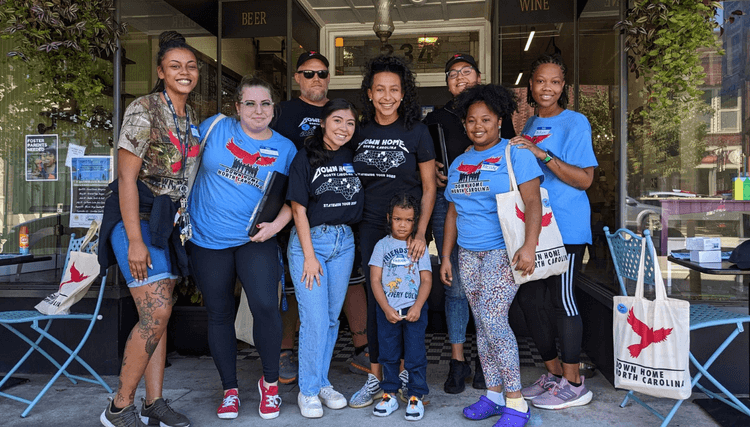 Six hundred thousand North Carolinians are about to gain access to healthcare thanks to a people-powered victory last week! The North Carolina General Assembly passed Medicaid expansion, and the Governor signed it into law — a huge win for North Carolinians and a powerful testament to the tireless efforts that MVP partners worked on for years to make possible. 
When Down Home North Carolina, one of our partners, was knocking on doors back in 2017, they heard loud and clear from rural North Carolinians that they needed healthcare – it was their #1 issue. Since then, they have organized to build power and put pressure on legislators to pass Medicaid Expansion. Through coalition building with groups like Action NC, organizers amplified the stories of real people, held events, lobbied and advocated to ensure that everyday people have access to the healthcare that they deserve.
For years, Down Home NC both organized electorally to break the Republican supermajority in 2018 and prevent its return in 2022. They also built bipartisan support to pass this expansion in spite of the Republican controlled assembly who tied it to the state budget and added their own agenda items in an attempt to block its passage. 
This sweet victory comes in the midst of a huge partisan power struggle in this shifting battleground state. We have huge fights ahead with the legislature, retaking the NC  Supreme Court, and holding the Governorship – which is by far the most contested Governor's race in 2024 (more on the political fight in a follow up blog!). 
But it's important to look beyond the political fights as well. Local organizers are playing the long game and MVP is partnering closely with them and supporting their leadership. MVP was one of the first funders and most consistent of Down Home NC from the very beginning – along with many other groups. Our brilliant North Carolina State Advisor Jillian Johnson is working directly with our NC Partners every day to identify opportunities on the ground, increase coalition building, and identify new groups, and strategies. 
To learn more about the amazing work of Down Home NC who made this win possible, check out their blog. The post captures the heart and soul of how members organized for Medicaid expansion to make it a reality including building power in rural districts to overcome even the toughest political resistance. These are the stories of people power in action. As our partners at Down Home say, "when we listen to working class people and build campaigns around our issues, we can win."
At MVP, we are building power across the state through supporting grassroots base-building and issue campaigns to help sustainable organizations to win long term victories like this. This is a new beginning for 600,000 people who will be able to access lifesaving care. Deep issue-based organizing in addition to electoral work is what it took to win here and will continue beyond this moment. 
To continue this incredible work in NC and across the country, you can support Movement Voter PAC which bolsters the growing ecosystem of groups on the frontlines fighting for working people in North Carolina. Together, we will transform North Carolina and build a stronger people-powered North Carolina for all!