October 23, 2023
Briefing Replay: Help Turn North Carolina Blue in 2024
What's at stake in NC? Winning the U.S. Presidency, the Governorship, several swing U.S. House races, and much more. Watch the briefing to learn more about our plan to build power across North Carolina ahead of the 2024 elections.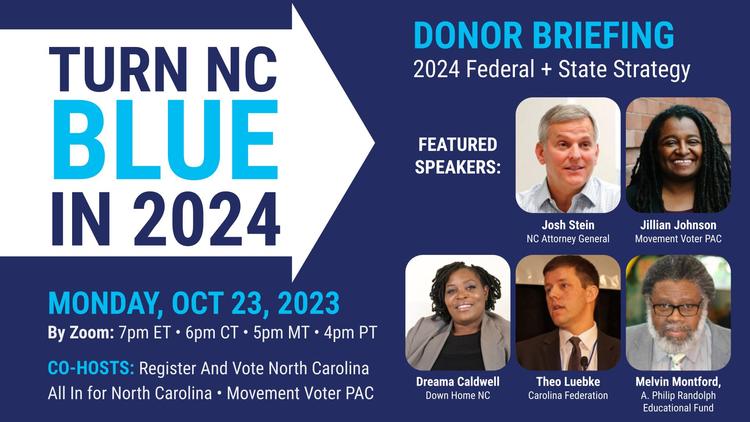 Enjoy this replay of our October 23, 2023 briefing on turning North Carolina blue in 2024!
Basics
What: A donor briefing on the plan to win NC in 2024
When: Monday, October 23
Where: Online via Zoom
Replay: Watch here
Deck: View here
What's at stake in NC? 
Winning the U.S. presidency
Winning the governorship
An opportunity to restore balance to the NC courts and break the ultraconservative supermajority in the NC legislature; and much more.
Watch to learn how MVP's grassroots voter mobilization partners in NC are working to make this happen.
Together, these organizations have resolved to knock on 3.8 million doors — 3 times as many as in 2022. 
Funding this effort early could flip results up and down the ballot, and bring a more responsive, inclusive, and representative government to NC.
Co-hosts
Register And Vote North Carolina: Founded in 2021, RVNC is an all-volunteer giving circle devoted to supporting representative, inclusive, effective, honest government in North Carolina.
All In for North Carolina: AINC is a national collaborative that recruits volunteers for voter-activation projects and conducts fundraising for groups and candidates in North Carolina. 
If you have any questions, please email [email protected].
p.s. Please donate to MVP's North Carolina Fund and help us supercharge movement organizations and voter engagement in this very key swing state.
p.p.s. – You are also cordially invited to MVP's next National Debrief, which will take place on November 9 — two days after the Nov 7, 2023 elections that will be especially pivotal in VA, OH, and PA. RSVP here »