Published: February 21, 2023
Q&A: How 'The Equity Alliance' is Working to Strengthen Black Power in Tennessee
MVP recently connected with Tequila Johnson, the Co-founder and Executive Director of The Equity Alliance, to talk about how the group has been changing harmful legislation and building power in Black communities across Tennessee. Tequila also shared the group's plans for Black History Month. Oh, and we can't forget about their LiberTEA Collective – an intensive program that deserves to be emulated across the country (if you ask us!)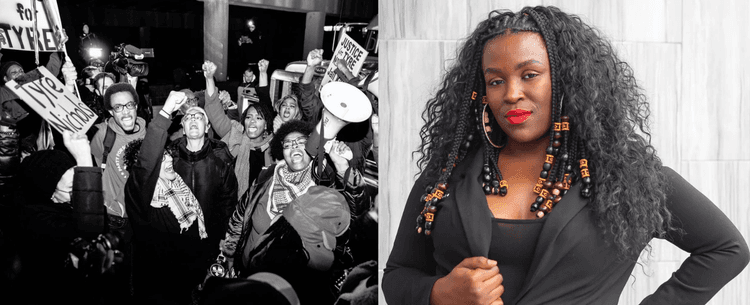 Following the death of Tyre Nichols in Memphis, TEA co-founder and ED Tequila Johnson (pictured right) advises activists to "invest in mental health."
On January 7, a group of police officers in Memphis, Tennessee brutally beat 29-year-old Tyre Nichols as he called out for his mother. Tyre was a young photographer, artist, and father who enjoyed skateboarding and sunsets. His family said he loved his mama and was free-spirited. What was supposed to be a simple traffic stop that night ended in a brutal murder of another Black man – and another needless reminder of all of the injustices that Black people continue to face across America.
At Movement Voter Project (MVP), we're committed to funding Black-led organizing groups so that they can win policies, build power, and protect those wins in the face of systemic oppression and anti-Black racism. We know that Black leaders understand best how to lead and defend their communities in the face of racial discrimination, systemic inequalities, and police brutality – the type of police brutality that we all recently witnessed in Memphis.
Our Black-led partner group, The Equity Alliance (TEA), is still in the middle of a rapid response to support their communities during this difficult time. MVP recently connected with Tequila Johnson, the Co-founder and Executive Director of TEA, to talk about how the group has been handling the latest developments, their plans for Black History Month, as well as their legislative efforts and wins over the years. Oh, and we also can't forget about their LiberTEA Collective – an intensive program that deserves to be emulated across the country (if you ask us!)
Here's what Tequila had to say:
MVP: In your own words, what kind of future are you working towards?
"We are working towards a world where Black people have equitable access to the resources we need to thrive. That means we have the same opportunities of privilege to live, work and play where we want as our white counterparts. It means that public schools are fully funded, and we have access to the healthcare we need. That means we have representation in politics and leaders who care about the liberation of Black people."
MVP: What do you have planned for Black History Month this year?
"Happy that you asked. We partnered with Everybody vs. Racism and four other Black-led businesses and organizations that have similar missions as we do to host a series of events to celebrate our history and center Black joy, excellence and experiences. We're having afro beats and amapiano parties, we're having a salute to Black music conversation-style event featuring members of Tennessee State University (TSU) grammy winning band. TSU is also my alma mater. We also have an art show happening with The Vanguard Arts and Everybody Vs. Racism."
MVP: Many of us as BIPOC youth (and our communities) are still processing the brutal killing of Tyre Nichols in Memphis. Organizing for a better future is not easy, and it can be difficult working towards a new reality where our communities thrive in the midst of ongoing challenges and injustices. My next question is on the hearts and minds of a lot of young activists of color these days: How do you address the emotional well-being component?
"Understand that it's OK to unplug sometimes. Listen to your body and recognize your need to rest and recharge and actually take time for that. If you aren't thriving, you can't fight for the community. I'm sure you've heard the saying, 'There's no rest for the weary.' You can't let bigotry out sleep you. You can bet white supremacy sleeps really well at night. Also, I understand that physical, mental, and emotional health goes hand in hand. We must take care of ourselves holistically. As a Social Justice leader, I encourage all organizers and activists to invest in mental health through therapy and preventative alternatives like meditation and healthy lifestyle choices."
MVP: What sort of key projects or legislation have you worked on, or achieved over the years as an organization?
"In 2018 we started an initiative called TN Black Voter Project, where we set out to register new voters, help people get their voting rights restored, and host poll parties to educate voters about the electoral process, who was running, and the whole nine. We hosted party bus parties to give rides and get people to the polls to vote – you name it we did it. We traveled more than 8,000 miles across the state and registered more than 90,000 people to vote in one of the poorest, most disenfranchised areas – Shelby County. When we did this, the Secretary of State saw that, and of course, couldn't have this Black-led organization building political power in his state! So he did everything he could to stop us. He said we were registering dead people, and said we were submitting fraudulent registration forms. He also tried to throw the book at us. He tried to pass legislation outlawing large-scale voting registration efforts. He tried to outlaw nonprofits from registering voters. Well, we sued and won."
MVP: What are some memorable wins you've celebrated over the past year?
Our TEAm fought like crazy last year. Our backs were against the wall, we had daggers thrown at us from every angle. All because my colleague and business partner stepped away from the organization to run for state senate. That stepped on a lot of toes and ruffled a few feathers. But I'm proud to say that my TEAm grew all of our programs from LiberTEA graduating four cohorts to our new specialty license plate getting over 1,900 pre-orders, and our events growing with over 5k attendees combined. It was a great year for us.
MVP: Can you tell us more about your LiberTea Collective?
The LiberTEA Collective is our intensive eight-week leadership development program. LiberTEA – as we call it – cultivates the talent of Black Tennesseans who are ready to transform our communities as rising civic leaders and democracy defenders. Politics has historically been white-dominated and white-led. Black people deserve representation in every aspect of life – including politics. It is only right that we train the next generation of thought leaders. Now is the time to take back control of our communities and position ourselves to become key decision-makers within our communities, cities, and state.
MVP: As someone with extensive knowledge and experience when it comes to grassroots organizing, what sort of support would you like to see more of? How would those resources or tools help shape your work as a Black-led organization?
"It's no secret that grassroots organizing is the long-game approach to alleviating harmful systems and ensuring all tides rise together. Much like the systems we seek to eradicate, philanthropy is rooted in white supremacy and oppressive culture. I encourage philanthropic organizations and foundations to invest in diversity within their structures and leadership. We must create pathways into philanthropy for grassroots organizers. We must also invest in the well-being of those on the ground. I've encountered countless organizers who don't have adequate health insurance and are living from paycheck to paycheck. Having adequate resources to support the holistic well-being of organizers would drastically decrease burnout. Thus, improving their quality of life and reducing turnover."
Tequila Johnson is an award-winning community organizer and strategist whose work focuses on creating equity and increasing civic engagement among Black Americans. She has been widely recognized for educating communities of color about the political process, relevant economic, social, and political issues, and the impacts of impending legislation.